Comet 4 Overhead Panels
23/11/08 21:40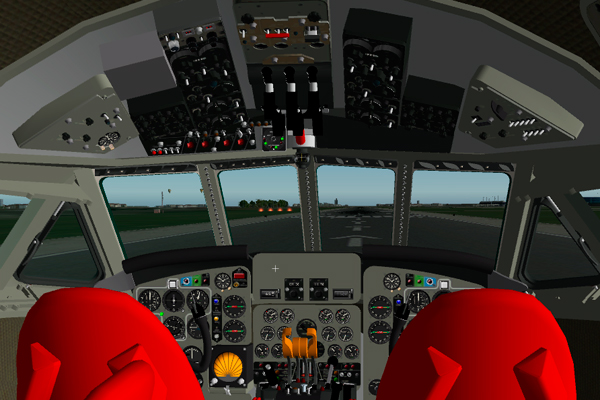 Overhead Panels
The last two weeks have been spent on the overhead panels, seen above in a view from the engineer's station. The radios are Marconi, circa 1957, with an Ultra communication control box and a later Cossar transponder, consistent with the Comet 4C manual issued by Hatfield. Set 1 (COM1, ADF1, etc) are over the pilot, and set 2 are over the co-pilot. After a bit of head-scratching about click-zones, they work (hooray!), but you have to move your virtual head around a good deal to be able to read the tiny scales (see below).
Obviously, there is a disparity between radios on the 2D panel and in 3D. I'm happy with that for XPv8. I wondered whether to fit modern radios, so everything would feel the same in 2D and 3D, and decided against it. I think people will prefer to see period instruments wherever I can use them. I'll explain the differences in the release notes, and work on greater consistency in XPv9. My only regret is the lack of stuff on the 2D panel to make more of the 3D cockpit live. I'm also struggling to make the lighting even: textures using cockpit/-PANELS-/panel.png have high emissivity, making them legible in all conditions. Although I can add emissivity to other objects, I'm not sure about the knock-on effect on frame-rates, and I can't find a way to change to a night mode. Again, I think it's something to live with for XPv8, and fix in XPv9.
By now, I'm really looking forward to migrating the entire project to XPv9, but I must resist, or I'll never get this version finished!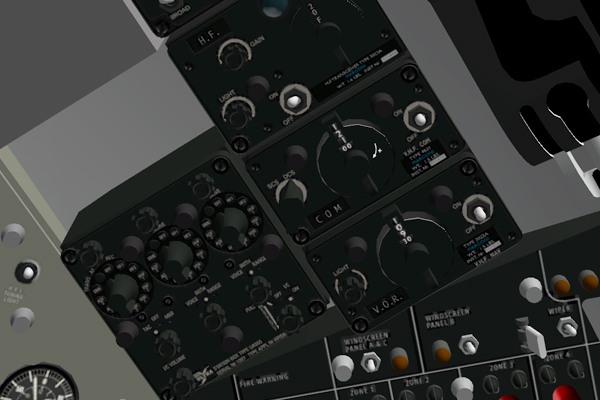 --
GMM-P (23/11/2008)