On Sunday 27th January, I visited Bruntingthorpe Proving Ground to see Comet C/N 6473, better known as "Canopus". My objective was to measure the cockpit window line, which I recently discovered was different on the Comet 4B and 4C, compared with the Comet 4. I also photographed the various additional bulges and blisters on Canopus, shut lines, engine ducts, and other details.
Canopus It is a little weather beaten; the red paintwork is more of a dark pink, and no longer shiny, but that's a cosmetic detail. The aircraft itself is kept in fully functioning condition by a ground crew led by Crew Chief Ian Roberts, and is the only Comet in the world to move under its own power. © 2008, Guy Montagu-Pollock.
A testament to its crew is that it smells good. That might sound an odd thing to say, but it is unusual for a museum exhibit to smell like a healthy aircraft, of machine oil and kerosene, rather than the dank smell of mould and decay. The engines are run regularly and all systems are warmed up and "exercised", including the air conditioning system, to keep seals in condition, joints free, and to prevent damp and condensation. When the engines aren't running, the cabin is kept dry with de-humidifiers.
Canopus was never equipped as an airliner. The interior is extremely spartan, with no overhead lockers and only a few rows of seats. In active service, most of the space would have been benches and test equipment. This makes it perfect for research, because I had a clear view of the structure, and of emergency exits and other details normally obscured by seats. Having worked on this project for so long, it was fantastic to stand inside the passenger compartment for the first time and soak it in. I used to commute to Germany very regularly on Boeing 737s and Airbus A319s. The Comet felt longer and narrower, but it's not pinched for space, and the windows are large by modern standards, making it feel very bright. It made me think how luxurious the original Comet 1s would have felt, with their enormous square windows.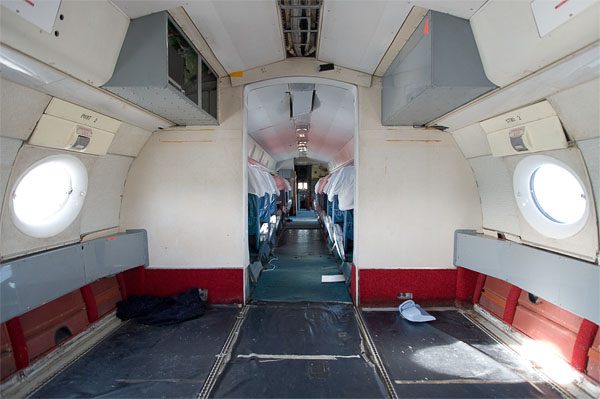 © 2008, Guy Montagu-Pollock.
Bruntingthorpe is better known as the home of XH558 – the Avro Vulcan that famously bombed the runway at Port Stanley, and that caught media attention last Summer when they appealed to the public for money to finish its restoration to flight. The quality of the restoration is second to none. Every detail is bright, clean and clearly defined, with a deep lustre like a showroom-fresh car. It really is like new.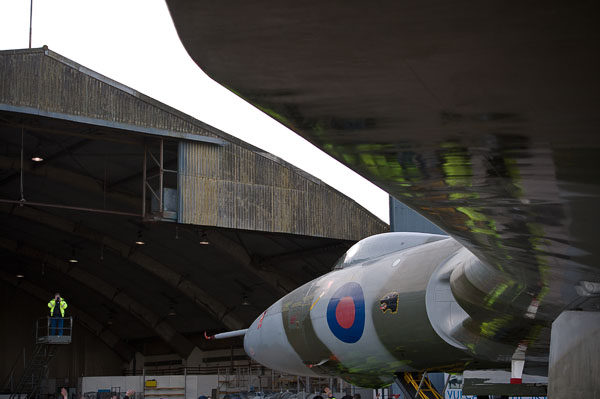 © 2008, Guy Montagu-Pollock.
--
GMM-P (30/01/2008)