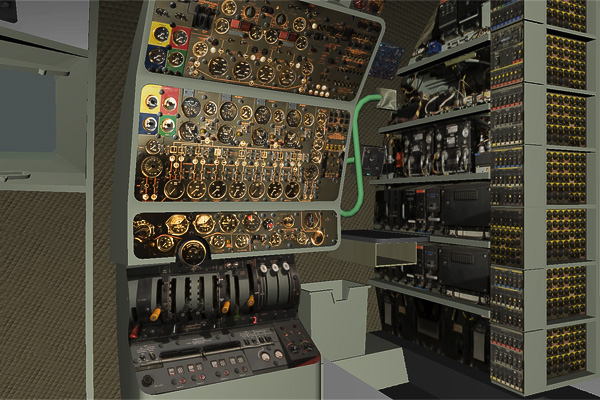 Engineer's Station
The structure for the engineer's station is complete. That is:
The Engineer's Panel
Aircraft Services Pedestal
Document stowage (looks like a bin)
Workbench
Radio rack
Circuit breaker rack
Fuse rack
There will be no functioning gauges and levers initially; this is purely to give a cosmetic view as the pilot looks over his right shoulder. The detail is from photographs of Mike Pyment's beautifully restored cockpit (Comet 4: XV-814, C/N 6407). Eventually, it's my ambition to come back to this area and develop a functioning Engineer's Station, but that's a little way off yet ...
It's amazing to think that this frenetically busy area of the cockpit is now redundant, and easy to forget the enormous benefit that computers have brought to the flight deck. For all the benefits and savings, one essential task has not been replaced, and that was the flight engineer's ability to monitor the pilots, and take charge of check lists during crucial phases of flight. Flying is so safe, and incidents are so rare, but one does wonder about this safety net.
So what was the engineer looking at?
Engineer's Panel

The Engineer's Panel is in three parts:
(Top) Electrical panel.
(Middle) Fuel panel, with fuel flow to all engines, fuel level in 9 tanks, and controls to circulate fuel around the aircraft in flight.
(Bottom) Pressure and temperature panel (HVAC).
Aircraft Services Pedestal

Under the Engineer's Panel is the Aircraft Services Pedestal. A row of levers control pressurisation valves, electrical bus-bars, and fuel cross-feed. The lower part is the de-icing panel.
Modelling
This whole area was quite challenging to model, because each piece of equipment had to be at the right angle to the fuselage skin. The most difficult single piece was the green hose for the oxygen mask. I found a very helpful thread in the AC3D forum (
Modeling cables - AC3D Forums
), except that it cost 2,400 polygons. In the end, I used the "extrude along a path" tool and lots of trial and error to reduce the size to 230 polygons. Still massive compared to more regular shapes!
--
GMM-P (20/09/2008)