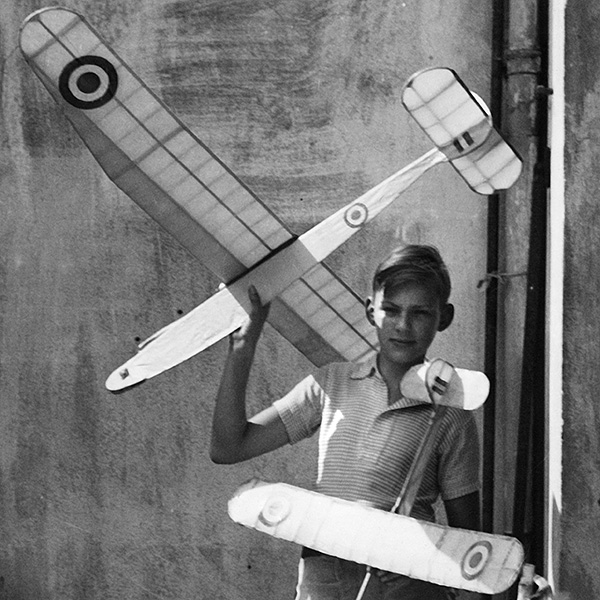 Giles Pollock, taken captive with his family by the Germans, and held at Bad Neuenahr in Germany. His scratch built gliders, defiant with RAF roundels, got him in trouble with the local Gestapo.
Photo: © George Pollock.



Sir Giles Montagu-Pollock, Bt. (1928-2017)
My father, who was very much the inspiration for this project, my source for all things de Havilland, and, above all, my Dad, died in February 2017, aged 88.
His father had gone to sea as a Midshipman, aged 16, during the First World War. He left the Navy in 1922 to join Unilever, who sent him to Finland and Norway. He absolutely adored Scandinavia, and the whole way of life. He fell in love with a Norwegian girl, they were married, and both my father and his younger sister, Karina, were born in Norway. Their idyllic childhood came to an end when the Germans invaded Norway in 1940. There was no escape; the family were captured and taken to in Berlin as diplomatic prisoners, waiting exchange.
It was an unimaginably stressful time for his parents, but, for a twelve year old it was an adventure. The flight from Oslo to Berlin was in a Focke-Wulf Fw200 Condor, and they saw Hitler waving from an open-Topped Mercedes-Benz in the Tiergarten, while a captured Spitfire looped-the-loop overhead.
The family were transferred to a hotel in Rheinsberg, where they joined other captured British families, all stuck behind enemy lines when the war started. They were transferred again, to a larger hotel in Bad Neuenahr, with more families: in total about 70 men, women and children. The Germans were still confident of winning the war, and treated the families well; they were allowed freedom to visit the local town, the likelihood of anyone trying to escape with children through Germany, or occupied Belgium or France, being pretty low. They were allowed to send and receive letters. These were heavily censored, and delayed by months, just in case the censor had missed anything. We still have that correspondence, the envelopes stamped by various Nazi departments. Most of it was cheerfully mundane, about their health, the weather, or the organisation of cricket bats and stumps. To keep the children's education going, the parents had formed a school. Some correspondence was about receiving proper accreditation for the children's education. A proper curriculum was sent, and text books. My grandfather, a keen amateur photographer, was even allowed to take pictures. Meanwhile the local villages were only too delighted to have the British amongst them, because they thought it would protect them from the RAF. My father built gliders, which he insisted on flying with RAF roundels (see picture), which got him in trouble with the local Gestapo.
In 1942, my father's family were exchanged. It was just in the nick of time, too, because, as Germany began to lose the War, civilian and diplomatic prisoners were treated worse. They were sent out through neutral Portugal, then from Lisbon to Whitchurch by Douglas Dakota, on BOAC Flight 777. Almost as soon as they landed, my father was sent to school, at Eton. My grandfather, assuming his Royal Navy rank again, was posted to Shetland with S.O.E., to work with Norwegian resistance, via the Shetland Bus. Meanwhile my grandmother was recruited into photo-reconnaissance, where she was involved in the hunt for the German battleship, Tirpitz. Only recently, through the National Archives, we discovered that my grandfather had been recruited by British Intelligence in 1938. If the Germans had found out, things would have gone very differently. His great friend in Norway was Joachim Rønneberg, who led the second attack on the German Heavy Water factory at Telemark in 1943.
In 1946, my father joined the de Havilland Aeronautical Technical School. He trained as a design engineer, but became more interested in marketing. It was an extraordinary time to be in the aircraft industry, at the end of the piston-engined era, and the dawn of the jet age. Mosquitos were still in production, and, as part of his education, he worked on the Mosquito production line. He also worked on the Comet production line. In marketing, he worked for Philip Gordon Marshall, who had been in charge of the vast Spitfire repair facility at Witney, owned by de Havilland. In marketing, he was involved in producing the Comet brochure, then moved with PGM to Airspeed, to work on the Ambassador, then back to de Havilland Engines on the Goblin, Ghost, and Gyron, and Sprite rocket engines. He used to carry a rocket engine in the boot of his car, together with the lethal fuels necessary to demonstrate it.
In 1956, he moved to Bristol, to sell the Britannia airliner. He became marketing manager for Bristol-Siddeley Engines, on the Olympus (Vulcan/Concorde) and Pegasus (Harrier). At Bristol, he commissioned a young Magnum photographer, Erich Hartmann, to photograph the Britannia, and they became tremendous friends. A few years later, Erich was on a commission from Ford, to photograph the first Cortina. My mother (though not yet) was the model on that shoot, and it was Erich who introduced my parents.
Magnum Photos: Bristol Britannia, by Erich Hartmann.
In 1961, my father left the aircraft industry altogether, and joined J Walther Thompson advertising agency, where he managed accounts for Rolex Watches and Rowntree Mackintosh.
In the 1970s, my father left JWT to set up a new advertising company, which foundered during the recession of 1973. It was a terrible time. He burned through his savings and pensions to keep the family at home, and the children at school. Through stress, he lost all his hair. His marketing expertise got him involved in a number of start-ups, including an early form of ground source heat pump, a dairy filtration system, a ground effect vehicle and a personal-pod monorail, none of which came to anything. He got a job as Terence Conran's managing director, and then as marketing manager at Ferrari's UK importer, to handle the UK introduction of the Ferrari 308. He advertised Kingcombe Sofas, owned by the former Spitfire Ace, Brian Kingcome. Then, finally, he found his niche with the headhunting firm, John Stork (later Korn/Ferry International). His hair returned and he refilled the family coffers. He continued to work with Korn-Ferry until his retirement at 75.
On his retirement, he began to think wistfully about his early career at de Havilland. He and I made a tour of any museum with one of "his" aircraft. The de Havilland Museum, at London Colney, is on the site of the de Havilland Technical School, as it was in 1946. He stood on a slab of concrete, outside the hanger, and announced it was where his bench would have been. It is his enthusiasm for de Havilland, and the Comet, that inspired this project.
My father was given a full page obituary by the times, written by James Owen:
https://www.thetimes.co.uk/article/sir-giles-montagu-pollock-n9wc757sp
--
GMMP
06/03/2017