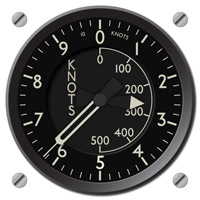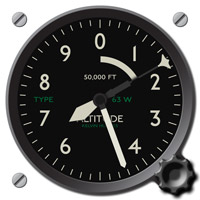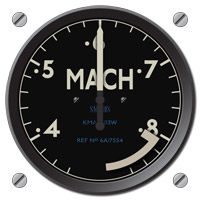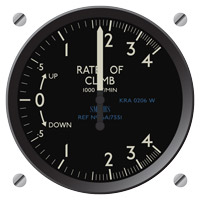 Instruments
Progress on the 3D cockpit has got far enough (see below) to start adding instruments, and getting a feel of what it's like to use.
I took copious close-up shots of instruments in the cockpit at the de Havilland Heritage Museum, of Mike Pyment's Comet, and Canopus at Bruntingthorpe, and the Operations Manuals explain in detail how the instruments work, and what they should display.
The instruments for X-Plane have been drawn in Adobe Illustrator, and are infinitely scaleable. All I have to do is export them as a PNG in the appropriate size. That means I've done the work once, and it is (I hope) future-proof against whatever happens to X-Plane resolutions in future, or anything else I think of doing with them.
These four instruments are pretty accurate to the original. My only reservation is the font, which is a close match, but not quite right. The number "4" is closed at the top and it should be open, but that's the worst or most obvious fault. The shape, weight and proportion of the other letters and numerals is pretty close. Especially on the Kelvin Hughes instruments, these would have conformed to American military standard MS 33558, and I shall eventually create an open-type font for it.
Currently, I'm working on what de Havilland and Smiths Industries called the "Director Horizon", and the "Beam Compass" (the same as a horizontal situation indicator). Unfortunately, there are no stock instruments in X-Plane V8xx that work exactly as these work, so I can give them a similar appearance to the Comet's gauges, but needles and flags won't move as they should do. I've looked at custom instruments in v9 beta. I will certainly be able to make them
more
accurate, but still not quite perfect.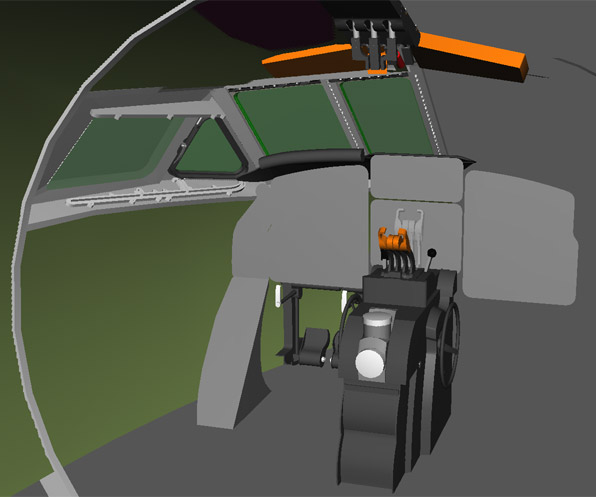 Cockpit
This image shows the Comet 4B/C cockpit, because the height of the front screens was increased, especially at the centre, which had quite a pronounced upwards kink. The fire control panels (above the screen, in orange) are in two parts, where the original Comet 4, and all previous Comets, had a one-piece panel that came much lower down.
The most recent work has been on the rudder pedal and central pedestal. At this stage, I am only building what's necessary to take a screen-shot for the 2D panel. Once the Comet package has been released, I'll work on a 3D cockpit in earnest.
Progress (Generally)
I must apologise for falling silent over the last five weeks. I am a freelance, and I was fortunate to win a major commission at the end of last year. The project kicked-off in February, and it's wiped out my ability to push on with the Comet, at least with any sense of pace. It's still running. I like to do something on it every day, even if it's only a new needle for an instrument, but progress is at a trickle at the moment.
--
GMM-P (29/03/2008)